Sad Romantic Shayari – images of love shayari, new sad shayari, sad shayari for lovers, and love shayari Sad romantic shayari picture; sad romantic shayari.
Ab Na Kholo Mere Ghar Ke Udaas Darwaze,
Hawa Ka Shor Meri Uljhanein Bada Deta Hai.
अब न खोलो मेरे घर के उदास दरवाज़े,
हवा का शोर मेरी उलझनें बढ़ा देता है।
Mujhe Ye Darr Hai Teri Aarzoo Na Mit Jaye,
Bahut Dinon Se Tabiyat Meri Udaas Nahin.
मुझे ये डर है तेरी आरजू न मिट जाये,
बहुत दिनों से तबियत मेरी उदास नहीं।
---
School Friends Shayari
School Friends Shayari – You might have heard of this idea previously because it is not brand-new. The reality is that a life without friends is not one that is worthwhile.
Kesi palat gai hai zindagi pehle
school naa jane ka bahana dhundte
the ab school jane ka moka tak nahi milta.
कैसी पलट गई है ज़िन्दगी, पहले स्कूल
ना जाने का बहाना ढूंढते थे अब स्कूल
जाने का मौका तक नहीं मिलता।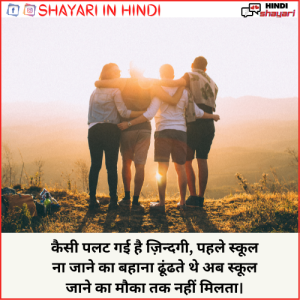 School ke dino me sabse behtar
din wo hota tha jab har class ka
pehla din hota tha.
स्कून के दिनों में सबसे बेहतर दिन
वो होता था जब हर क्लास का पहला
दिन होता था।
---
Budhwar Good Morning
Budhwar Good Morning –
Make your friends and family smile by sending them a heartfelt good morning message in Hindi.
Uthh Kar Dekhiye Iss Subah Ka Najara,
Hawa Hai Thandi Aur Mausam Bhi Hai Pyara,
So Gaya Chaand Aur Chhup Gaya Har Ek Tara,
Kabool Kariye Aap Good Morning Humara.
Good Morning! Have a nice day…
उठ कर देखिये इस सुबह का नजारा,
हवा है ठंडी और मौसम भी है प्यारा,
सो गया चाँद और छुप गया हर एक तारा,
कबूल करिए आप गुडमोर्निंग हमारा।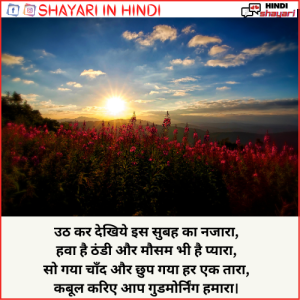 Chahta Hoon Ki Apne Saare Armaan Bhej Doon,
Duaaon Mein Apni Tumhara Naam Bhej Doon,
Din Khila Aur Dil Ko Tum Yaad Aaye,
To Socha Ki Subah Ka Salaam Bhej Doon.
Good Morning
चाहता हूँ कि अपने सारे अरमान भेज दूँ,
दुआओं में अपनी तुम्हारा नाम भेज दूँ,
दिन खिला और दिल को तुम याद आये,
तो सोचा कि सुबह का सलाम भेज दूँ।