Good Morning Latest – Greetings, Shayari. Best collection of Shayari in Hindi for "good morning," "good morning," and "pictures".
Sooraj Nikal Raha Hai Poorab Se,
Din Shuroo Huaa Aapki Yaad Se,
Kehna Chaahte Hain Hum Aapko Dilse,
Aapka Din Achchha Ho Jaye…
Humari Good Morning Se…!
सूरज निकल रहा है पूरब से,
दिन शुरू हुआ आपकी याद से,
कहना चाहते हैं हम आपको दिल से,
आपका दिन अच्छा हो जाये…
हमारी गुड मॉर्निंग से..!!
Ai Sooraj Mere Dost Ko Ye Paigaam Dena,
Khushi Se Bhara Din Hansi Ki Shaam Dena,
Jab Khole Wo Subah Subah Apni Ankhein,
To Uske Chehre Par Pyari Si Muskaan Dena.
ऐ सूरज मेरे दोस्त को ये पैगाम देना,
खुशी से भरा दिन हँसी की शाम हो,
जब खोले वो सुबह-सुबह अपनी आँखें,
तो उसके चेहरे पर प्यारी सि मुस्कान देना।
---
Good Morning Sad Shayari
Good Morning Sad Shayari – Good day, Shayari Best collection of good morning Shayari in Hindi, good morning images, and good morning photos.
Raat Gujri Aur Mahekti Subah Aayi,
Dil Dhadka Fir Aapki Yaad Aayi,
Hum Ne Mehsoos Kiya Uss Hawa Ko,
Jo Aapko Chhookar Humare Paas Aayi.
Good Morning.
रात गुजरी और महकती सुबह आई,
दिल धड़का फिर आपकी याद आई,
हमने महसूस किया उस हवा को,
जो आपको छूकर हमारे पास आई।
सुप्रभात।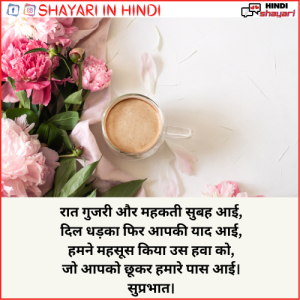 Ugta Hua Sooraj Duaa De Aapko,
Khilta Hua Phool Khushboo De Aapko,
Hum To Kuchh Dene Ke Kabil Nahi Hain,
Dene Wala Hajaar Khushiyan De Aapko.
Good Morning.
उगता हुआ सूरज दुआ दे आपको,
खिलता हुआ फूल खुशबू दे आपको,
हम तो कुछ देने के काबिल नहीं है,
देने वाला हजार खुशियाँ दे आपको।
सुप्रभात।
---
New Fb Status
New Fb Status – The most recent 71+ Two Line Khatarnak Attitude Shayari for Boys in Hindi can be found in this post.
Kis Liye Katra Ke Jata Hai Musafir Dum To Le,
Aaj Sukha Ped Hoon Kal Tera Saaya Main Hi Tha.
किस लिए कतरा के जाता है मुसाफिर दम तो ले,
आज सूखा पेड़ हूँ कल तेरा साया मैं ही था।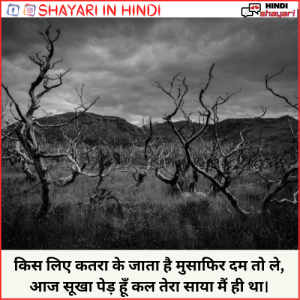 Ye Zalzale Yoon Hi Besabab To Nahi Aate,
Zaroor Zameen Ke Neeche Koi Deewana Tadapta Hoga.
ये ज़लज़ले यूं ही बेसबब तो नहीं आते,
ज़रूर ज़मीन के नीचे कोई दीवाना तड़पता होगा।