Shayri For Friends – You can greet your close friends a happy Friendship Day and uphold your friendship by sharing these Shayari with them.
Toofano Ki Dushmani Se Na Bachte Toh Khair Thi,
Saahil Se Doston Ke Bharam Ne Dubo Diya.
तूफानों ​की दुश्मनी से न बचते तो खैर थी​,
​साहिल से दोस्तों के भरम ने डुबो दिया​।
Dosti Kis Se Na Thi Kis Se Mujhe Pyar Na Tha,
Jab Bure Waqt Pe Dekha Toh Koi Yaar Na Tha.
दोस्ती किस से न थी किस से मुझे प्यार न था,
जब बुरे वक़्त पे देखा तो कोई यार न था।
---
Facebook Status For Boys
Facebook Status For Boys – You may keep your friendship alive by sending these Shayari to your close pals in time for Friendship Day.
Waqt Ki Yaari Toh Har Koi Kar Leta Hai Dost,
Mazaa Toh Tab Hai Jab Waqt Badle Par Yaar Na Badle.
वक्त की यारी तो हर कोई करता है मेरे दोस्त,
मजा तो तब है जब वक्त बदले पर यार ना बदले।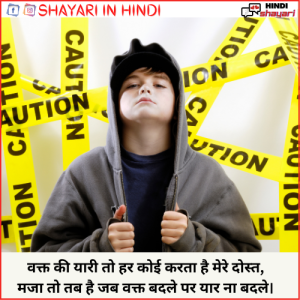 Dekhi Jo Nabj Meri Toh Hans Kar Bola Hakeem,
Tere Marz Ka Ilaaj Mehfil Hai Tere Doston Ki.
देखी जो नब्ज मेरी तो हँस कर बोला हकीम,
तेरे मर्ज़ का इलाज महफ़िल है तेरे दोस्तों की।
---
Short Thought In Hindi
Short Thought In Hindi – Hello guys! I've put together a collection of the best recent Hindi thoughts. I sincerely hope you enjoy this presentation of the Best Thoughts in Hindi.
Jabse chooma hai us khuda ke dar ko,
Bus Muskaan hi hotho par raha karti h.
जबसे चूमा है उस खुदा के दर को,
बस मुस्कान ही होठो पर रहा करती है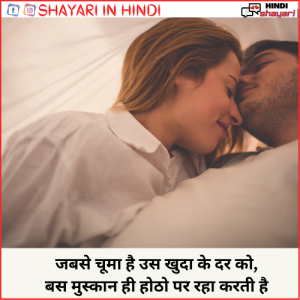 Lazmi hai beeta kal bhool jana,
Darkar hai bus is pal ko yaad rkhna.
लाज़मी है बिता कल भूल जाना,
दरकार है बस इस पल को याद रखना