Sad Status Pic – Read the Hindi versions of Alone Boy Shayari and Sad Alone Shayari below, and we hope you enjoy it.
Akela bhi is tarha pad gaya hun
ki mera hosla bhi sath na de rha h.
अकेला भी इस तरह पड़ गया हूं,
कि मेरा हौसला भी साथ नहीं दे रहा है।
Sahare dhundhne ki adat
nahi humari hum akele
puri mahfil ke barabar hai.
सहारे ढूढ़ने की आदत नहीं
हमारी हम अकेले पूरी महफिल
के बराबर है।
---
Happy Shayari In Hindi
Happy Shayari In Hindi – Hello, guys I'm here with the newest Happy Shayari collection. I hope you enjoy this Happy Shayari Hindi post.
Fool bankar muskurana zindagi,
Muskura ke gm bhulana zindagi .
Jeet kar koi khush ho to kya hua
Har kar khushiya manana bhi zindagi.
फूल बनकर मुस्कुराना जिन्दगी,
मुस्कुरा के गम भुलाना जिन्दगी,
जीत कर कोई खुश हो तो क्या हुआ,
हार कर खुशियाँ मनाना भी जिन्दगी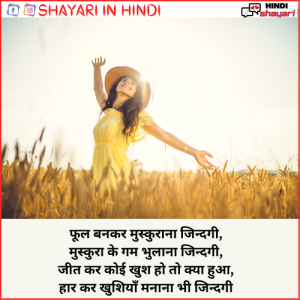 Bhool jao bita hua kal,
Dil me basa lo aane wala pal.
Muskurao chahe jo ho kal,
Fir khushiya hi laega har pal.
भूल जाओ बिता हुआ कल,
दिल में बसा लो आने वाला पल,
मुस्कुराओ चाहे जो हो कल,
फिर खुशिया ही लाएगा अगला पल…
---
Girls Dp Download
Girls Dp Download – Hindi Status, Motivational Quotes, Whatsapp Status, and the Greatest Shayari in Hindi.
Hum to humesha aage hi chala karte hai,
Peeche chlne ka shauk to In ladko ko hai
हम तो हमेशा आगे ही चला करते है,
पीछे चलने का शौक तो इन लड़को को है।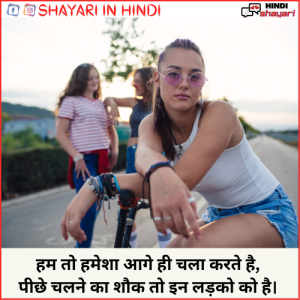 Chahe kitne hi daag laga lo hum par,
Hum chand ki tarah roshan hi rhenge.
चाहे कितने ही दाग लगा लो हम पर,
हम चांद की तरह रोशन ही रहेगें।