Life Status Quotes – Hello guys! I've created a collection of two-line shayari in Hindi that are all about life. I hope you enjoy this two-line Hindi shayari on an article on life.
zindgi bus chlne kaa nam h,
rukna to bus ab maut par hi hoga
ज़िंदगी बस चलने का नाम है ,
रुकना तो बस अब मौत पर ही होगा
aapki tarif koi na karega,
magr ungli uthane wala shayad mohalla ho
आपकी तारीफ कोई ना करेगा ,
मगर ऊँगली उठाने वाला शायद मोहल्ला हो
---
Good Morning Ki Shayari
Good Morning Ki Shayari – Salutations, Shayari. The best selection of good morning Shayari in Hindi, good morning photos.
Subah-Subah Pyaare Se Phool Khil Gaye,
Panchhi Bhi Apne Safar Par Ud Gaye,
Sooraj Ke Aate Hi Taare Bhi Chhup Gaye,
Lo Aap Bhi Meethhi Neend Se Uthh Gaye.
Good Morning.
सुबह-सुबह प्यारे से फूल खिल गए,
पंछी भी अपने सफर पर उड़ गये,
सूरज के आते ही तारे भी छुप गये,
लो आप भी मीठी नींद से उठ गये।
सुप्रभात।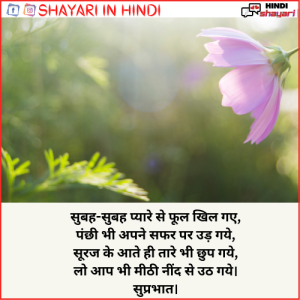 Savere-Savere Ho Khushiyon Ka Mela,
Na Logo Ki Parwaah Na Duniya Ka Jhamela,
Parindo Ka Shor Ho Aur Mausam Albela,
Mubaraq Ho Aapko Aaj Ka Savera.
सवेरे-सवेरे हो खुशियों का मेला,
न लोगों की परवाह न दुनिया का झमेला,
परिंदों का शोर हो और मौसम अलबेला,
मुबारक हो आपको आज का सवेरा।
---
Good Morning Images For Whatsapp In Hindi
Good Morning Images For Whatsapp In Hindi – Good morning, Shayari Good morning Shayari, photos, and images in Hindi
Sooraj Nikal Raha Hai Poorab Se,
Din Shuroo Huaa Aapki Yaad Se,
Kehna Chaahte Hain Hum Aapko Dilse,
Aapka Din Achchha Ho Jaye…
Humari Good Morning Se…!
सूरज निकल रहा है पूरब से,
दिन शुरू हुआ आपकी याद से,
कहना चाहते हैं हम आपको दिल से,
आपका दिन अच्छा हो जाये…
हमारी गुड मॉर्निंग से..!!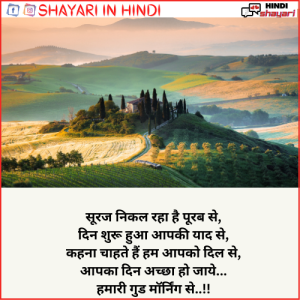 Fir Subah Ek Nayi Roshni Hui,
Fir Ummeedein Neend Se Jhankti Mili,
Waqt Ka Panchhi Gharonde Se Uda,
Ab Kahan Le Jaaye Toofan Kya Pata.
Good Morning.
फिर सुबह एक नई रोशन हुई,
फिर उम्मीदें नींद से झाँकती मिली,
वक़्त का पंछी घरोंदे से उड़ा,
अब कहाँ ले जाए तूफाँ क्या पता।
सुप्रभात।