Inspiring Hindi Quotes – A fantastic selection of Hindi Inspirational Shayari has been provided for you. Read the most recent inspirational poetry and SMS here.
Jo Yakeen Ki Raah Par Chal Pade,
Unhein Manzilon Ne Panaah Dee,
Jinhein VasVason Ne Daraa Diya,
Woh Kadam-Kadam Par Behak Gaye
जो यक़ीं के राह पर चल पड़े,
उन्हें मंज़िलों ने पनाह दी,
जिन्हे वस्वसों ने डरा दिया,
वो कदम-कदम पर बहक गए।
Mushkilon Se Keh Do Uljha Na Kare Humse,
Har Halaat Mein Jeene Ka Hunar Aata Hai Humein.
मुश्किलों से कह दो उलझा न करे हम से,
हर हालात में जीने का हुनर आता है हमें।
---
Shayri Hindi Image
Shayri Hindi Image – We have assembled a fantastic collection of Hindi Shayari for inspiration. New Hortative SMS and Motivational Shayari are available here.
Tu Rakh Yakeen Bas Apne Iraadon Par,
Teri Haar Tere Hauslon Se Toh Badi Nahi Hogi.
तू रख यकीन बस अपने इरादों पर,
तेरी हार तेरे हौसलों से तो बड़ी नहीं होगी।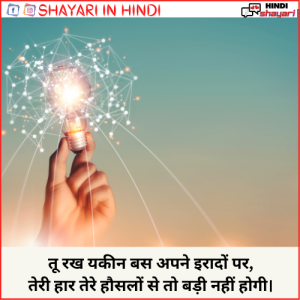 Hauslon Par Apne Jo Aitbaar Karte Hain Unhein,
Manzilein Khud Pate Batati Hain Raste Intezar Karte Hain.
हौसलों पर अपने जो ऐतबार करते हैं उन्हें,
मंज़िलें खुद पते बताती हैं रास्ते इंतज़ार करते हैं।
---
2Line Poetry
2Line Poetry – We have provided you with a fantastic selection of Hindi Shayari for inspiration. Check out the most recent inspirational quotes and SMS here.
Duaa Karo Ke Salaamat Rahe Meri Himmat,
Yeh Ek Chiraag Kayi Aandhiyon Pe Bhari Hai.
दुआ करो कि सलामत रहे मेरी हिम्मत,
यह एक चिराग कई आँधियों पे भारी है।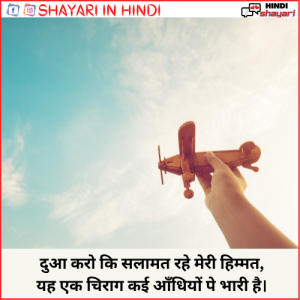 Wo Ladenge Kya Ke Jo Khud Par Fida Hain,
Hum Ladenge… Hum Khudaon Se Lade Hain.
वो लड़ेंगे क्या कि जो खुद पर फ़िदा हैं,
हम लड़ेंगे… हम ख़ुदाओं से लड़े हैं।