Happy Status In Hindi – Hello, guys I'm here with the newest Happy Shayari collection. I hope you enjoy this Happy Shayari Hindi post.
Bhool jao bita hua kal,
Dil me basa lo aane wala pal.
Muskurao chahe jo ho kal,
Fir khushiya hi laega har pal.
भूल जाओ बिता हुआ कल,
दिल में बसा लो आने वाला पल,
मुस्कुराओ चाहे जो हो कल,
फिर खुशिया ही लाएगा अगला पल…
Itna khush raho ki
Duniya pareshan ho jaye ki
Ise kis bat ki khushi h
इतना खुश रहो कि
दुनिया परेशान  हो जाये कि
इसे किस बात की ख़ुशी है।
---
Sister Shayari In Hindi
Sister Shayari In Hindi – Hello guys! I have the most recent collection from Sister Shayari. I sincerely hope you enjoy this post about Bhai behan Shayari in Hindi.
Agar khwahisho kea age koi jahan hai to,
Rab kare wo jahan meri bahan ko mil jaye.
अगर ख्वाहिशों के आगे कोई जहान है तो,
रब करे वो जहान मेरी बहन को मिल जाए।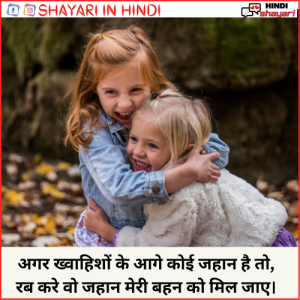 Bahna sath hai jo tera to duniya jeet lunga,
Warna do kadam bhi chalna mushkil hoga.
बहना साथ है जो तेरा तो दुनिया जीत लूंगा,
वरना दो कदम भी चलना मुश्किल होगा।
---
Romantic Whatsapp Status
Romantic Whatsapp Status – For Facebook and Whatsapp, we offer a lovely selection of the most recent romantic shayari, romantic SMS, and romantic statuses.
Chahat Hai Ya Dillagi Ya Yoon Hi Man Bharmaya Hai,
Yaad Karoge Tum Bhi Kabhi Kis Se Dil Lagaya Hai.
चाहत है या दिल्लगी या यूँ ही मन भरमाया है,
याद करोगे तुम भी कभी किससे दिल लगाया है।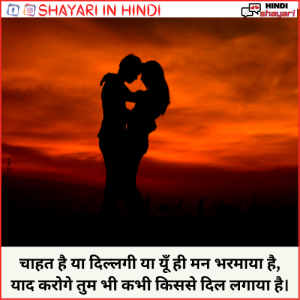 Ai Shakhs Tera Saath Mujhe Har Shakl Mein Manzoor Hai,
Yaadein Hon Ke Khushboo Ho, Yakeen Ho Ke Gumaan Ho.
ऐ शख्स तेरा साथ मुझे हर शक्ल में मंज़ूर है,
यादें हों कि खुशबू हो, यक़ीं हो कि ग़ुमान हो।