Good Night Shayari – We're here today with a fresh selection of good night quotes, good night statuses, good night statuses for friends, and good night statuses for you and your nights. If you're seeking for the greatest SMS to send at night to friends, family, parents, siblings, girlfriends, boyfriends, or anybody else.
Raat Ko Jab Chaand Sitare Chamakte Hain,
Hum Hardam Aapki Yaad Mein Tadapte Hain,
Aap To Chale Jaate Ho Chhod Ker Humein,
Hum Raat Bhar Aapse Milne Ko Taraste Hain.
रात को जब चाँद सितारे चमकते हैं,
हम हरदम आपकी याद में तड़पते हैं,
आप तो चले जाते हो छोड़कर हमें,
हम रात भर आपसे मिलने को तरसते हैं।
Chaand Ki Chaandni Se Ek Palki Banai Hai,
Yeh Palki Hum Ne Taaro Se Sajai Hai,
Ai Hawa Jara Dheere Dheere Hi Chalna,
Mere Dost Ko Badi Pyari Neend Aayi Hai.
Good Night and Sweet Dreams..!!
चाँद की चाँदनी से एक पालकी बनायी है,
ये पालकी हम ने तारों से सजाई है,
ऐ हवा ज़रा धीरे-धीरे ही चलना,
मेरे दोस्त को बड़ी प्यारी सी नींद आई है।
शुभरात्रि।
---
Best Friend Shayari
Best Friend Shayari – Friendship has a deeper meaning than simply being in a relationship of reciprocal affection between two people; it refers to sentiments of care, respect, admiration, worry, love, or similarity. Use our best selection of friendship shayari to convey your feelings to a genuine buddy.
Friendship Shayari – फ्रेंडशिप शायरी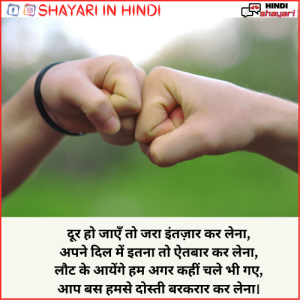 Door Ho Jaayein Toh Jara Intezaar Kar Lena,
Apne Dil Mein Itna Toh Aitbaar Kar Lena,
Laut Ke Aayenge Hum Agar Kahin Chale Bhi Gaye,
Aap Bas Humse Dosti Barakaraar Kar Lena.
दूर हो जाएँ तो जरा इंतज़ार कर लेना,
अपने दिल में इतना तो ऐतबार कर लेना,
लौट के आयेंगे हम अगर कहीं चले भी गए,
आप बस हमसे दोस्ती बरकरार कर लेना।
Tu Kitni Bhi KhoobSurat Kyun Na Ho Ai Zindagi,
KhushMijaaz Dosto Ke Bagair Tu Achhi Nahi Lagti.
तू कितनी भी खूबसूरत क्यूँ न हो ऐ ज़िंदगी,
खुशमिजाज़ दोस्तों के वगैर तू अच्छी नहीं लगती।