Funny Status In Hindi – We put together the best collection of humorous Hindi shayari for 2023. Discover the funniest Shayari text, images, and quotes.
Tera Pyar Paane Ke Liye
Maine Kitna Intezar Kiya,
Aur Uss Intezar Mein Na Jaane
Kitno Se Pyar Kiya.
तेरा प्यार पाने के लिए
मैंने कितना इंतज़ार किया,
और उस इंतज़ार में न जाने
कितनों से प्यार किया।
Hum Uske Ishq Mein
Iss Kadar Chot Khaye Huye Hain,
Kal Uske Baap Ne Maara Tha
Aaj Bhai Aaye Huye Hain.
हम उसके इश्क में
इस कदर चोट खाए हुए हैं,
कल उसके बाप ने मारा था
आज भाई आये हुए हैं।
---
Good Day Images
Good Day Images – Hence, start your day by getting up and taking advantage of this great time of day rather than letting the morning pass you by.
Subah-Subah Aapko Ye Paigaam Dena Hai,
Aapko Subah Ka Pehla Salaam Dena Hai,
Gujre Saara Din Aapka Khushi-Khushi,
Iss Subah Ko KhoobSoorat Sa Naam Dena Hai.
Good Morning!
सुबह-सुबह आपको यह पैगाम देना है,
आपको सुबह का पहला सलाम देना है,
गुजरे सारा दिन आपका ख़ुशी-ख़ुशी,
इस सुबह को खूबसूरत सा नाम देना है।
सुप्रभात।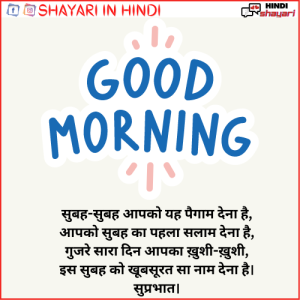 Har Subah Ek Naye Din Ki Shuruat Hoti Hai,
Kisi Apne Se Baat Ho To Khaas Hoti Hai,
Hans Ke Pyar Se Doston Ko SuPrabhat Bolo,
To Din Bhar Khushiyan Apne Sath Hoti Hain.
Good Morning Friends.
हर सुबह एक नये दिन की शुरुआत होती है,
किसी अपने से बात हो तो खास होती है,
हँस के प्यार से दोस्तों को सुप्रभात बोलो,
तो दिन भर खुशियाँ अपने साथ होती हैं।
---
Hindi Suvichar On Life
Hindi Suvichar On Life – Hello, guys I'm here with the most recent Hindi Suvichar collection. I sincerely hope you enjoy this Hindi Suvichar post.
zindgi aapki tabhi roshan hogi,
jab aap usme khud hi jaloge.
ज़िंदगी आपकी तभी रोशन होगी ,
जब आप उसमे खुद ही जलोगे।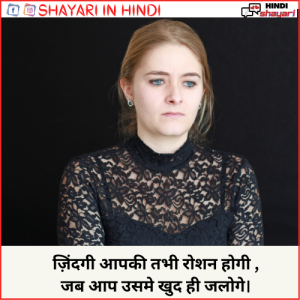 zakhm aapko isliye mil rahe h,
taki aap malham lagana seekh jao.
ज़ख्म आपको इसलिए मिल रहे है ,
ताकि आप मलहम लगाना सीख जाओ।