Best Whatsapp Bio – Hello, guys I'm here with the most recent collection of Hindi love poems. I hope you enjoy this post on Hindi Love Shayari.
shauk lag gaya h bus uske naam ka
ab nahi ye jahan mere kisi kaam ka
शौक लग गया है बस उसके नाम का,
अब नहीं ये जहां मेरे किसी काम का।
dhdkano ko thaam krna
kyunki agar hum paas aa gaye
to tum khud ko bhula donge
धड़कनों को थाम कर रखना।
क्यूंकि अगर हम पास आ गए
तो तुम खुद को भुला दोगे।
---
Khatarnak Status
Khatarnak Status – Hi, everyone. There is a sizable collection of the best Khatarnak Attitude Status in Hindi for You in this post.
Mera khatarnak Attitude
bhagwan ka diya tohfa hai
koi mujhse ye chhin ni sakta.
मेरा खतरनाक ऐटिटूड भगवान 
का दिया तोहफा है कोई मुझसे 
ये छिन नहीं सकता।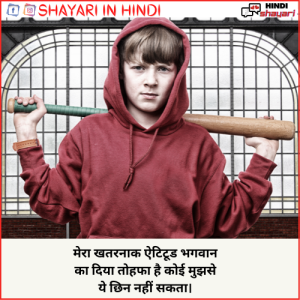 badi se badi hasti mit gayi mujhe
jhukane me beta tu to koshish bhi
mat karna teri umar guzar jayegi
mujhe girane me..
बड़ी से बड़ी हस्ती मिट गयी मुझे
झुकाने मे,बेटा तू तो कोशिश भी
मत करना तेरी उम्र गुजर जायगी
मुझे गिराने मे.
---
Whatsapp Status For Boys
Whatsapp Status For Boys –
Dear Friends You may find a huge selection of the Top Hindi Khatarnak Attitude Statuses in this post.
Attitude ke bazar me jeene ka
alag hi maza hai log jalna nahi
chodte aur hum muskurana..
Attitude के बाजार में जीने का 
अलग ही मज़ा है लोग जलना नहीं 
छोड़ते और हम मुस्कुराना।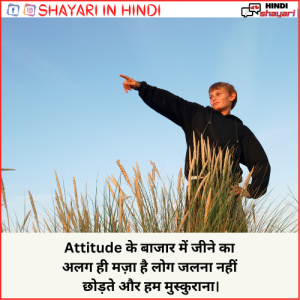 humse ulajhna esa hai jese
barud ke dher par beth kar
chingari se khelna..
हमसे उलझना ऐसा है जैसे 
बारूद के धेर पर बैठ कर 
चिंगारी से खेलना।