Alone Shayari In Hindi – Read the most recent shayari about a lonely and depressed lover here. New book of poetry on Tanhai, Akelapan, and loneliness.
Apni Tanhaayi Se Tang Aa Kar,
Bahut Se Aaine Khareed Laya Hoon.
अपनी तन्हाई से तंग आ कर,
बहुत से आईने खरीद लाया हूँ।
Iss Safar Mein Neend Aisi Kho Gayi,
Hum Na Soye Raat Thak Kar So Gayi.
इस सफ़र में नींद ऐसी खो गई,
हम न सोए रात थक कर सो गई।
---
Funny Shayri In Hindi
Funny Shayri In Hindi – We put up the greatest collection of humorous Hindi shayari for 2023. Discover the funniest Shayari text, images, and jokes.
Tera Pyar Paane Ke Liye
Maine Kitna Intezar Kiya,
Aur Uss Intezar Mein Na Jaane
Kitno Se Pyar Kiya.
तेरा प्यार पाने के लिए
मैंने कितना इंतज़ार किया,
और उस इंतज़ार में न जाने
कितनों से प्यार किया।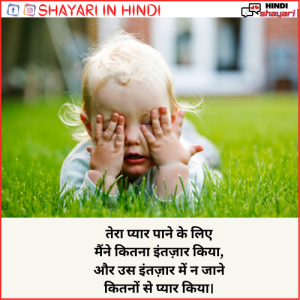 Hum Uske Ishq Mein
Iss Kadar Chot Khaye Huye Hain,
Kal Uske Baap Ne Maara Tha
Aaj Bhai Aaye Huye Hain.
हम उसके इश्क में
इस कदर चोट खाए हुए हैं,
कल उसके बाप ने मारा था
आज भाई आये हुए हैं।
---
Shair Punjabi
Shair Punjabi – adore shayari in Punjabi. Gurmukhi punjabi love shayari, heartfelt punjabi love shayari.
Oh Mere Adhure Gitaan Nu,
Hae Ni Pahichana Dendi Tu,
Ho Main Masiha Tere Piḍa Da Ni,
Main Asaka Tere Piḍa Da Ni,
Main Gumnaama Ha Tere Piḍa Da Ni,
Mainu Nama Dendi Tu.
ਓ ਮੇਰੇ ਅਧੂਰੇ ਗੀਤਾਂ ਨੂੰ
ਹਾਏ ਨੀ ਪਹਿਚਾਣ ਦੇਂਦੀ ਤੂੰ
ਹੋ ਮੈ ਮਸੀਹਾ ਤੇਰੇ ਪਿੰਡ ਦਾ ਨੀ
ਮੈ ਆਸ਼ਕ ਤੇਰੇ ਪਿੰਡ ਦਾ ਨੀ
ਮੈ ਗੁਮਨਾਮ ਹਾ ਤੇਰੇ ਪਿੰਡ ਦਾ ਨੀ
ਮੇਨੂ ਨਾਮ ਦੇਂਦੀ ਤੂੰ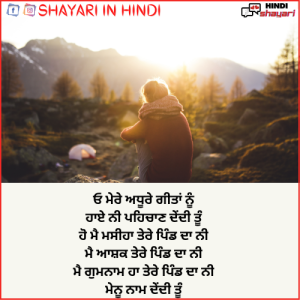 Menu Mili Judai Ta Main Ki Kara,
Na Menu Mahobaat Ras Ayi Ta Main Ki Kara,
Na Menu Umeed Hun Jeun Di,
Je Maut Bhi Na Aayi Ta Main Ki Kara.